Hi! It's Thrifty Thursday! I am your host, Leigh. Thank you so much for stopping by and additional thanks to those who also participate in Thrifty Thursday! I am most delighted to have you join in..for it's YOU who makes it a "show and tell party". I also participate in Tablescape Thursday the host of that fun carnival is the Hostess with the Mostess...
Susan of Between Naps on the Backporch
. That's no lie or exaggeration, each week I visit Susan's porch and just long to be a guest at any of her tablescapes...especially those held on the porch.
(You can click on any pictures for a closer view)
*If you do not know what Thrifty Thursday is or need more info on Thrifty Thursday you can go here.
*Don't forget to copy and paste the Thrifty Thursday logo button to your computer so you can add it to your side bar and your Thrifty Thursday post. That way visitors will know that your are participating in Thrifty Thursday.
Today's Thrifty Thursday is in the spirit of Christmas. I am sharing a bit of my kitchen Christmas decor, all of which is on a budget. I shared this space in a
Halloween Thrifty Thursday
and thought I would do the same for Christmas.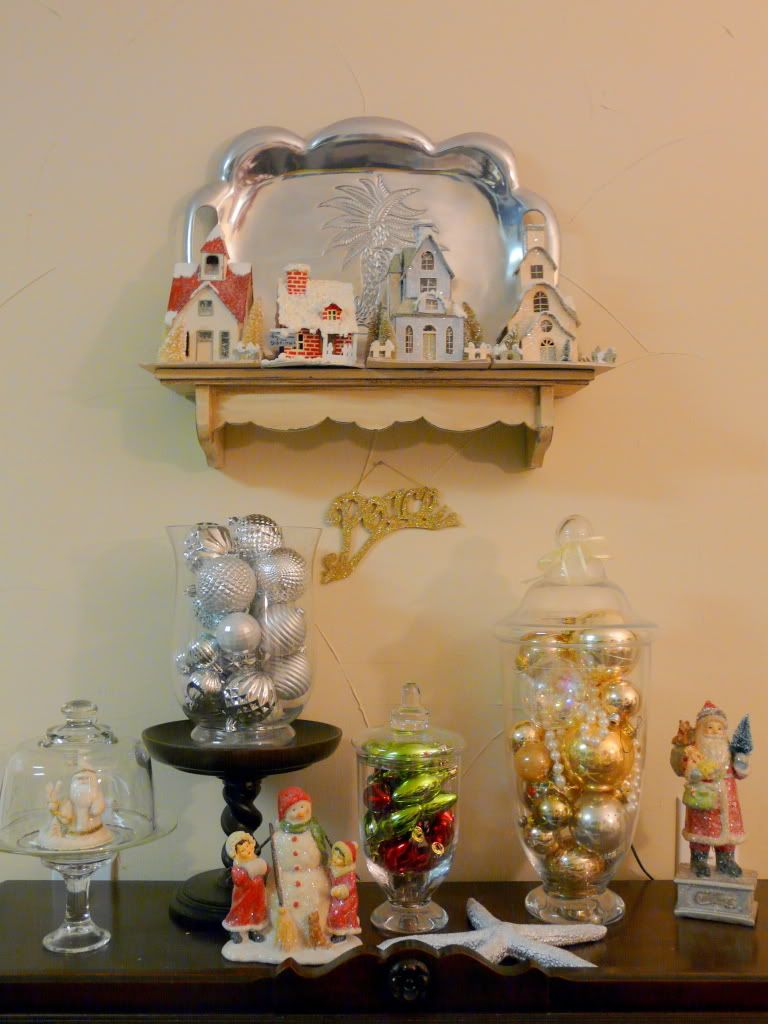 The 2 glass jars were purchased at the thrift store, as were the balls inside.
In the gold and white one with balls, a strand of pearls is also mixed in- the strand from a Mardi Gras parade (free of course, and NO! I didn't bear skin to get 'em!).
The glass hurricane vase on a stand (with silver balls from Big Lots) , I have had forever.
The stand itself, was a Southern Living at Home splurge. I think it is called the St Charles pedestal. I use it often, changing out what goes on top.
The "Peace" sign was $1.00 from Dollar Tree.
The shelf, a thrift store find for less than 3 bucks.
All of the Glitter Homes (I like to call them Sugar Shacks) were $1.00 each purchased after Christmas at T.L. Maxx (love that store!).
The Silver Palmtree platter (Sorry, I can't put away all my love for the ocean) was a gift from
Peg
.
And the starfish, another $1.00 find at TJ Maxx.
The Santa and the snowmen with children, a gift from my mom.
The Santa under the
dome (inspired by Cindy of Cottage Instincts
) came from Tuesday Morning, it was $2.99.
And that's my Thirfty Thursday !
Now, onto to Tablescape Thursday, which is hosted by
Susan of Between Naps on the Porch.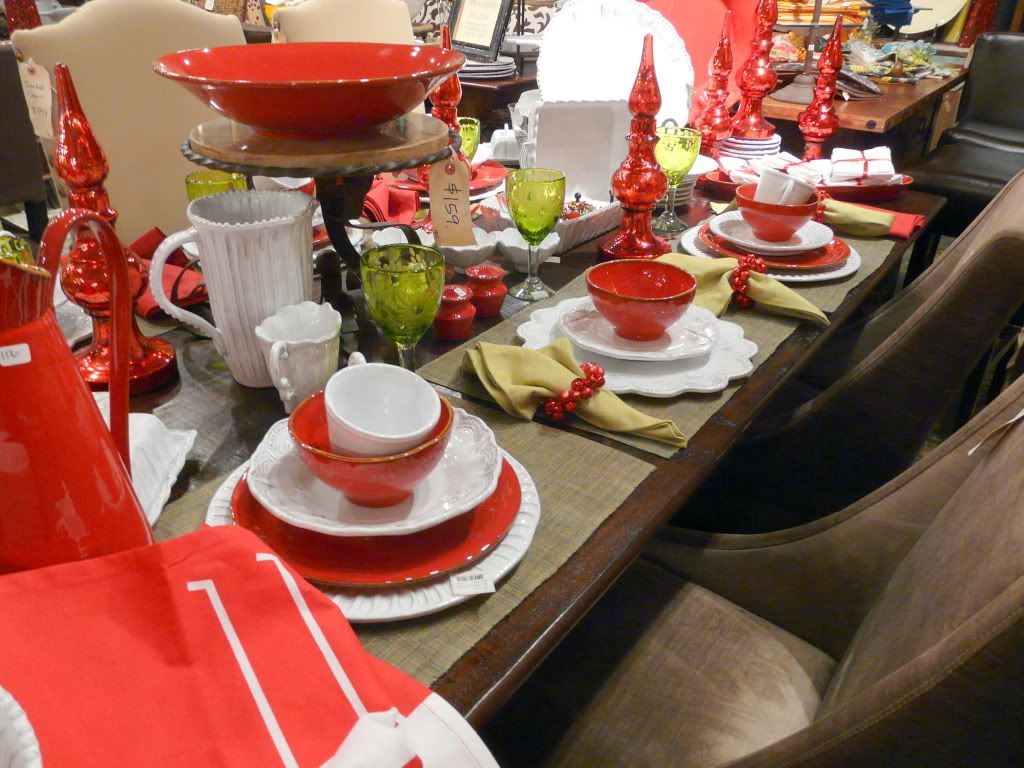 My festive tablescape of reds, whites and greens is courtesey of my visit to the At Home store. (Actually photographed IN the store). Tree toppers were added to the table as "finials".
What is a tablescape without the food? I invite you to stop by my food blog,
PLATES & PLACES
, tomorrow for Foodie Friday!
Thanks to all of you for stopping by and participating in today's Thrifty Thursday. Please use Mr. Linky below to link up your blog.I encourage you all to spread the love and visit the other thrifty Thursday participants, for that's what half the fun is. Aside from seeing a cool treasure it's making friends!
Thank you, all, FRIENDS! I appreciate YOU!
THRIFTY THURSDAY PARTICIPANTS: