Thanks to all of you who linked up for Thrifty Thursday, as well as those who paid visits to all the participants. I am still making the rounds, there are so many fabulous ideas, interesting treasures and wonderful blogs to enjoy, I am really taking my time and enjoying browsing and prerusing through all of your gorgeous Christmas decor!
Every Year, in the swing of Christmas shopping I always publish my list of gift ideas. Yes, you will see a trend here, I love self employed people who have creative minds, a passion and a dream-meaning I will often be promoting bloggers who create, but this list is certainly not limited to bloggers. You will find some delightful businesses that carry unique and creatively different gift ideas, sure to please most everyone on your guest list.
Let's get right to it.
1.
The French Elements
has something for every woman on your list. Offering beautiful custom made and embrodiered linens, this gift is certain to become a family heirloom.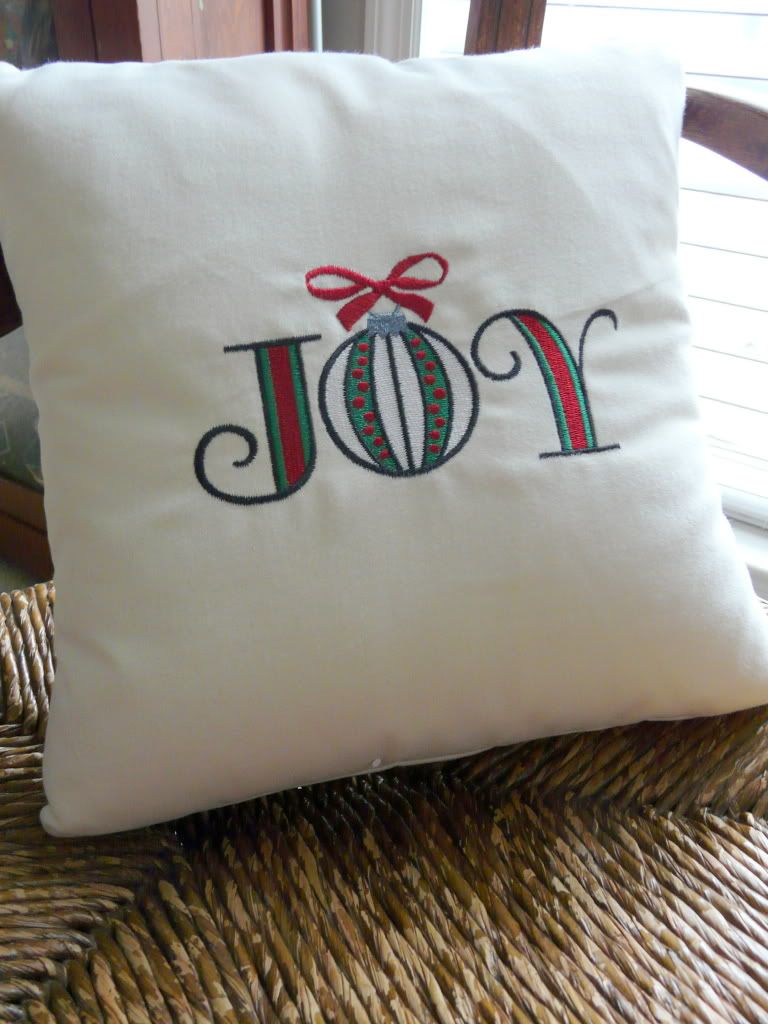 2.
Mamie Jane
, it is no secret, is a favorite of mine. She is always cranking out the most wonderful creative crafts. And lucky for you and me, she sells her masterpeices. I would suggest going by her blog and inquiring if you see something you like. For example, search for her gorgeous sugar/creamer sewing cushions. Makes a Gorgeous and memoriable gift and is very inexpensive.
3.
Gina
of The Shabby Cottage has an etsy shop in which she sells many hand crafted wares. As does my friend,
Jen of Dust Bunny Hostage
. A portion of Jen's sales goes to cancer research and all of her etsy items are donated by dear sweet giving people for a good charitable cause.
4.
The Monkey Basket
is a local business in Helena, but don't let that stop you from shopping if you live further than a car ride to the shop. Owner, Judy Ellington stocks her shelves full of delightful specialty gifts, many of which are locally made or southern made distributors. You can shop by the Monkey Basket website, or call Judy for a custom made gift basket to be shipped anywhere. Judy works with any budget. Beleive me. I know. Aren't these "Merry Christmas Y'all" plates a must have? I purchased both of these couple years ago, and use them all through the season-year after year.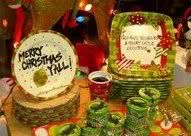 5.Jessica of Thoughts from a Bama Belle custom makes monograms and various designs for just about anything or anywhere you can think to put it.
Jessica even has her potty monogrammed
. I had Jessica make our monograms for our Girls Getaway Trip/craft time buckets. I also have some monograms from her on my plates, cloches and jars. It's a inexpensive way to customize a gift for someone. The possibilities are endless. Contact Jessica for ideas and pricing.
6.Al Malekovic is the creator of Country Bob's Sauce. It's a sauce that can be used on about near anything. Perfect for the cook or grill master on your list. WHy not consider a Country Bob's gift basket? Each Gift Pack Includes:1 Bottle of Original All Purpose Sauce,1 Bottle of Spicy All Purpose Sauce,1 Bottle of Barbecue Sauce,1 Container of Seasoning Salt as well as the Country Bob's Cookbook. I own this cookbook. In it are some wonderful recipes featuring The World's Greatest Sauce, as well as The history of Country Bob, Inc. . But what I really appreciate about both the cookbook and Country Bob's Company is their steadfast stance on morals, values, family and most of all-God. Throughout the cookbook you will find inspiring scriptures for living an abundant life. This giftpack has a value Price of $28.95.
http://www.countrybobs.com/try-a-free-bottle.html
7.I have discovered a website that I am in love with.
Junk Gypsies
!
From their website:"
The raucous and rowdy home of gypsies, junkers, DREAMERS and true-blue REBELS! The Junk Gypsy company, with our TROUPE of talented scavengers, travels NEAR and FAR to find roadside treasures, decadent decor and exotic goods for your home.And our team of rebellious designers work to bring you spunky COUTURE through the Junk Gypsy tees, jewelry and other charming wearables.So with a little wanderlust in your soul and a rebellious gleam in your eye. . . take a magic carpet ride through our wild and spirited world
!!!!"
They have so much eye candy on this site!! Currently I have spied this adorble belt-On Sale !! $25.00
8.Another website I adore is
Junk Market Style
.
From their website: "At JUNKMARKET and junkmarketstyle.com, we pride ourselves on our ability to keep pressing that refresh button; always creating and recreating to meet the shifting demands of the public. We work on the edge of creativity, offering products, design formats, and ideas that are sustainable and functional. From traditional to urban industrial, our styles for life at home inherently embrace the recycling of trends, producing classic adaptability with a dash of comfort."
From great ideas on what clever and creative things to do with your junk...
like the burlap bag project
that is still underway at my home, to thrifty shopping tips, this is a site you will want to visit!
9.
One Blue Moon Charms
is whimsical wearable vintage art pieces that you can wear.
You custom create your own piece by chosing "a charm, a stick, your initial, and finally your chain. The necklaces make an adorable personalized statement piece.One Blue Moon Charms was established in 2007 by Linda Chay. Each charm is designed by Linda and made lovingly made by hand. I know you'll fall in love with her whimsical creations. How can one not? (Linda is also a blogger. Visit her blog:
http://www.mybluemoon.typepad.com/
)
10.
This is a good one for the man in your life
....Save Mother Earth by recycling
. I love these cool ways to do it through Elsewares.com ...Check out these glasses made from...well old glass bottles. It's Ingenious and a conversation piece. And for those tailgating men, they even had beer bottle glasses.
Boylan Soda Glasses-These cool tumblers are recycled in Wisconsin from assorted clear Boylan soda and seltzer bottles, each a classic. Extremely durable, and the assorted glasses look incredible. Set of 4. Made in USA. Price $34.00
11.Save MOther Earth Recycling also sells these candles made from recyled parts: Recycled Tea Light Holder
Its a simple, elegant design that is both charming and practical. Made from recycled bicycle freewheels and cogs, tea light candle included. Sold individually. Made in the USA.
Price $12.99
12. Speaking of recycled, I recently purchased a lil something for myself from the store,
Four Seasons Art & Antiques, in Homewood, Alabama....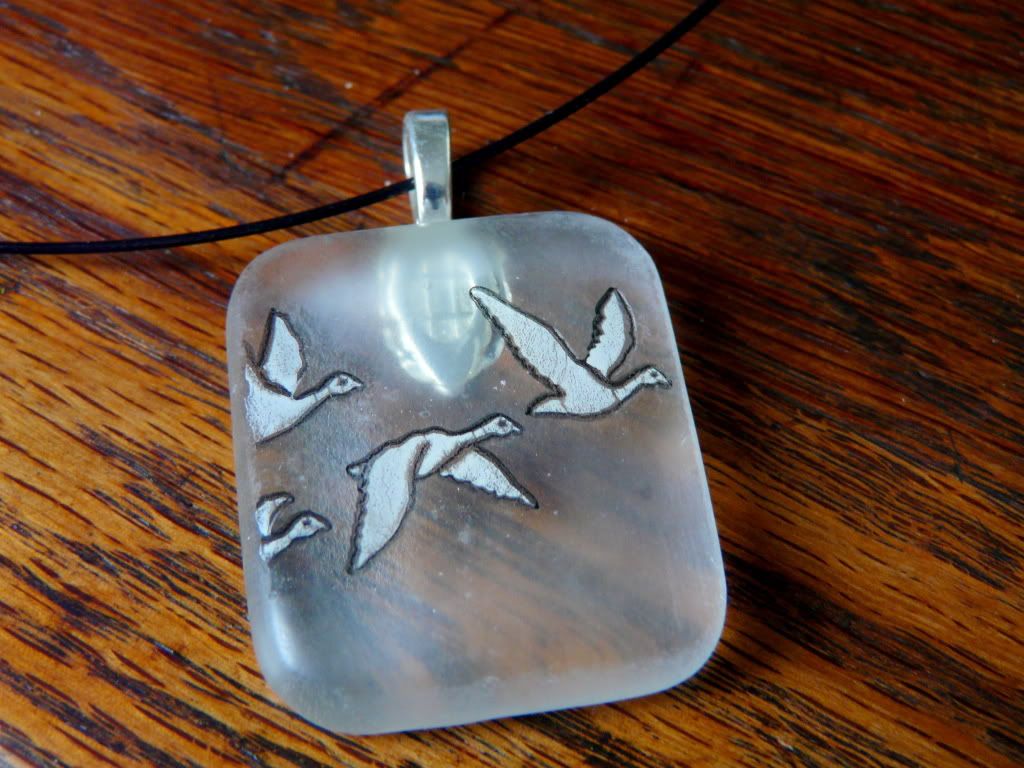 Do you know what it is? Sure, it's geese....but it is made from a Grey Goose vodka bottle. But this is only one design. There are many designs and colors and shapes made from all kinds of glass. I also loved the blue heart made from a blue glass wine bottle. The cost is $16.00 and comes with either a magnetic black chain or a silver screw style chain. The store also has many other gorgoues pieces of unique artwork and antiques.
Ask about the white feathered owl Christmas Ornaments. I purchased one of those too for $9 for my Christmas tree. He's beautiful! I will share a picture of him in an upcoming post.
13. As a kid, every Christmas I asked for cheese. I kid you not. As an adult, cheese still tops my list of wants. I just LOVE a good cheese. One of my most favorite cheeses comes from Mississippi State University (SEC football fans, no bias please). My personal favorites is the Swiss vallagaret and the incredible Edam.Oh, Edam.
Cheese.
14. If I may toot my own horn, what about purchasing a beauitful piece of photography to personalize a space.
Check out my Smug Mug Store for a lil somethin, somthing for your space
. If you live local, check out my
Photo Blog,
where if you live local you can purchase a gift certificate for a family or pet portait package, which includes all proofs and sitting fee for $125.00 How is that for thrifty? That's what most photographers charge just as a sitting fee! I just enjoy doing it.
16. For the kid on your list, I have to share... My daughter got a nintindo DS last year for her birthday. I LOVE this little game system. I love it because it is little. She takes it on roadtrips, to her brothers wrestling matches, to doctor appointments, etc. It's a great device to monopolize her time when she is somewhere she doesnt want to be (of course, school and church of off limit times to play). It saves a mothers sanity and a child's boredom from rearing it's head. There is also a long list of games for creative minds.

Recently we were given the opportunity to "test drive" the DS Game, "Littlest Pet Shop Friends ". Littlest Pet Shop brings the magic of owning your own pet shop to your home. The second edition of the LITTLEST PET SHOP video game brings the party to you with a new cast of quirky pets and their best friends. Play tons of new mini-games and explore new towns with your favorite pets. Venture on quests, deliver invitations, serve up ice cream, and style your pets as you get ready for the biggest LITTLEST PET SHOP party of the year. My daughter loves this game!
You can find all of the versions for purchase on Amazon
.
You can read more about the game and learn what other game systems (and phones) offer it
by clicking here.
The game retails for $29.95
Hopefully I have given up some things to think about. There are alot of great and reasonably priced ideas to make someone on your list happy.

Be sure and check out my list from years past...I think these gifts are still really great ideas!