A Sorority is born!
And I'm so excited!
It's *almost* as good as being a sweet potato queen or a southern belle.
It's the Sisterhood Sorority of Blogging Women!
It's awesome that we all feel the same way about this wonderful world of blogging! The camaraderie we have developed between all of us speaks for itself. And there are so many more Sisters to meet!
What fun we shall all have! Parties and giveaways, tours and workshops, sharing creations and ideas - all of this is in store for all of us. From home decor to crafting, our days will be full of fun in the months ahead.
You can join too! To join you must head to
Some Days are Diamonds
and get all the info. But do it soon...so you will not miss "Rush Week".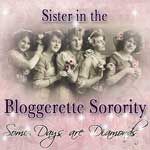 Won't you join us?
"Bloggerette Sorority"
Thanks for dropping by Bloggeritaville. In invite you to drop by anytime. If you have nejoyed your visit, become a follower. And please, take my button as a token of our friendship. :)
Leigh