Hi! It's Thrifty Thursday! I am your host, Leigh. Thank you so much for stopping by and additional thanks to those who also participate in Thrifty Thursday! I am most delighted to have you join in..for it's YOU who makes it a "show and tell party". I also participate in Tablescape Thursday the host of that fun carnival is the Hostess with the Mostess...
Susan of Between Naps on the Backporch
. That's no lie or exaggeration, each week I visit Susan's porch and just long to be a guest at any of her tablescapes...especially those held on the porch.
(You can click on any pictures for a closer view)
*If you do not know what Thrifty Thursday is or need more info on Thrifty Thursday you can go here.
*Don't forget to copy and paste the Thrifty Thursday logo button to your computer so you can add it to your side bar and your Thrifty Thursday post. That way visitors will know that your are participating in Thrifty Thursday.
What'dya think of my "new" table? It's actually made from an old window that my mom found in the barn. I loved the paint-very chippy. And I also loved the original hardware so I kept it to use as a knob.
We built a wood box around the window, much like a shadow box or display case. Then, we purchased some legs from the hardware store and screwed them onto the box.I still need to apply paint to the legs and make it look "worn" like the table top, But I couldn't wait. I just had to share!
And there you have it....a side end table made from an old window. FREE. How's that for thrifty?
Now, I just have to decide what I want to display inside. Perhaps treasures that we find on the beach. Maybe old broches that I have inheirted from Grandma's and Aunts. I could putold letters inside and make a vingette of old and loved items. What do you think? What would you put inside to showcase? You are all so creative, I would LOVE to hear your ideas!
I am also linking this up to
Roadkill Rescue.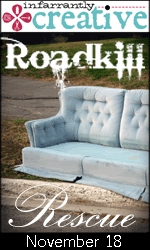 Now, onto to Tablescape Thursday, which is hosted by
Susan of Between Naps on the Porch.
Tablescape can also be Thrifty.
With Thanksgiving around the corner, I wanted to share this Harvest inspired Tablescape...
All of the tablescape wares can be purchased at
Harmony Landing in Homewood, Alabama
. Eveything from the dishes to the acorn napkin rings. Aren't they precious?
What is a tablescape without the food? I invite you to stop by my food blog,
PLATES & PLACES
, tomorrow for Foodie Friday! All this month I am sharing my families favorite Thanksgiving dishes from main courses to desserts.
If you live in "the Ham" (Birmingham), or anywhere in Alabama-heck even if you are passing through, Alabama Bloggers is hosting a lunch tomorrow. This from
Rachel of Alabama Blogger
, "November's Meet-up will be at Jason's Deli outside of Brookwood Mall at 11:30 on Friday, November 13th (You can remember Friday the 13th, right?). If 11:30 is too early, just come when you can - we usually end up staying at lunch for about 2 hours.The hashtag for this meet-up and all future Alabama Bloggers meet-ups (to make it simple) is #AlaBlogMeet."
I hope to see some of you there! It promises to be a blast! (Helena, bloggers-Lets carpool!)
Thanks to all of you for stopping by and participating in today's Thrifty Thursday. Please use Mr. Linky below to link up your blog.I encourage you all to spread the love and visit the other thrifty Thursday participants, for that's what half the fun is. Aside from seeing a cool treasure it's making friends!
Thank you, all, FRIENDS! I appreciate YOU!
THRIFTY THURSDAY PARTICIPANTS: